EdU Cell Proliferation Assay Kits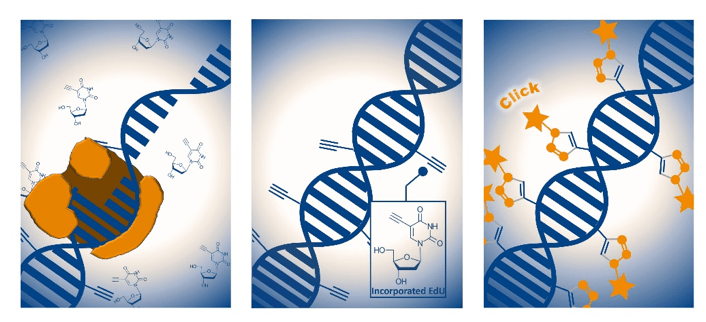 A superior cell proliferation assay
Do you need to stop working with 3H-thymidine for cell proliferation analysis? Are you looking for a sensitive and reliable cell proliferation assay? We have developed a cell proliferation assay with a simple workflow for detection by fluorescence microscopy, flow cytometry and for high-throughput screening in fluorescence plate readers. Moreover, baseclick´s EdU cell proliferation kits are available for cell proliferation assessment in vivo.
Most recently, we have developed EdU DetectPro Kits, which possess an even improved sensitivity. Due to our patented technology we provide superior cell proliferation kits at a reasonable price.
The key attributes are:
A fast detection procedure (30 min) to save your time
Cell proliferation detection at affordable cost to save your money
No radioactive compounds are needed to protect your health and the environment
Highly reliable and efficient method without false positives
Mild protocol conditions without DNA denaturation to preserve your samples and allow for multiplexing
More sensitive cell proliferation detection compared to BrdU kits for deeper insights
How do the kits work?
Baseclick EdU cell proliferation kits are based on the incorporation of 5-ethynyl deoxyuridine, abbreviated as EdU, which is an alkyne-modified thymidine analogue. EdU is taken up by the host cell, gets phosphorylated and is incorporated into DNA during the S-phase of the cell cycle. After EdU incorporation, fixation and permeabilization of the sample, de novo synthesized DNA is detected via click chemistry with fluorescent dyes.
Applications
Baseclick´s cell proliferation kits can be used to determine the influence of (small) molecules, chemicals and drugs on DNA synthesis to evaluate e.g. genotoxicity in oncology, REACH testing and for drug substance screening.
Which kit is the right for me?
Baseclick EdU cell proliferation kits for imaging are designed for fluorescence microscopy detection and are offered for different readout filter settings. This allows adaption to your detection setup and enables simultaneous detection of additional parameter(s) for multiplexing.
EdU cell proliferation kits for flow cytometry are most likely the best way to quantify cell proliferation by measuring new DNA synthesis and provide options for automated data acquisition.
EdU cell proliferation kits for high-throughput screening (HTS) provide reagents for multiple microtiter plates and can be adapted for automation. Please note that only a limited amount of fluorescent dyes is available for the HTS format.
Baseclick EdU in vivo kits contain an increased amount of EdU for feeding in an animal or plant model organism and are available for imaging, flow cytometry and HTS.
Do you need more information on EdU cell proliferation kits? See our FAQs.
Are you interested to purchase a cell proliferation kit? Request a quote!
Literature
Cell Proliferation
EdU for cell proliferation, a more efficient alternative to BrdU and H3dU[1]
Flow Cytometry analysis of cell proliferation based on EdU[2][3]
EdU cell proliferation in nervous system[4]
Immunoproliferative response analysis using EdU[5]
Selected references
[1] P. Cappella, F. Gasparri, M. Pulici, J. Moll, Cytom. Part A 2008, 73, 626–636.
[2] Y. Sun, Y. Sun, G. Lin, R. Zhang, K. Zhang, J. Xie, L. Wang, J. Li, Cytom. Part A 2012, 81 A, 901–909.
[3] S. Diermeier-Daucher, S. T. Clarke, D. Hill, A. Vollmann-Zwerenz, J. A. Bradford, G. Brockhoff, Cytom. Part A 2009, 75, 535–546.
[4] C. Zeng, F. Pan, L. a Jones, M. M. Lim, E. a Griffin, Y. I. Sheline, M. a Mintun, D. M. Holtzman, R. H. Mach, 2011, 21–32.
[5] Y. Kitazawa, H. Ueta, T. Hünig, Y. Sawanobori, K. Matsuno, Histochem. Cell Biol. 2015, 144, 195–208.
Jungmann, Nat. Methods 2018, 15, DOI 10.1038/s41592-018-0105-0.