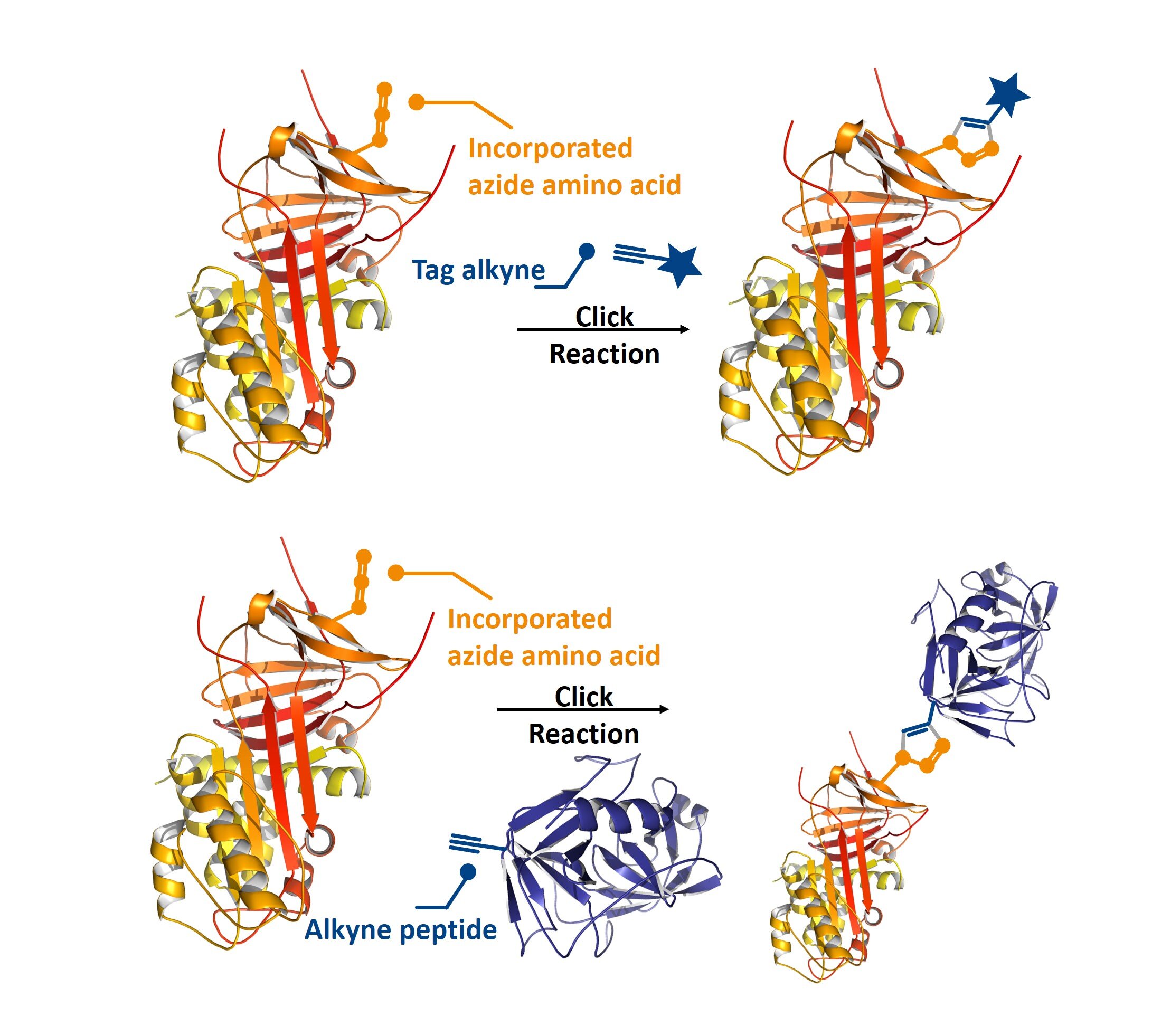 Reagents for metabolic labeling of proteins.
Do you want to detect de novo synthesized proteins without the need for radioactive reagents?
We provide reagents for sensitive, non-radioactive detection of nascent proteins. Amino acid analogs like e.g. azidohomoalanine are incorporated into proteins when fed to cell cultures. The azido group is small enough to be accepted by the cellular machinery and enables detection of newly synthesized proteins by click labeling with alkyne reporter molecules in gel electrophoresis, Western blots and mass spectrometry.
The key attributes are:
Non-radioactive reagents to protect you and the environment
Fast and sensitive detection of active protein synthesis, helps to save time
Options for copper-free in vivo detection are available
Applications
Baseclick reagents for protein labeling and detection enable de novo protein biosynthesis monitoring to evaluate e.g. inhibitors or for drug substance screening.
Which reagent is right for me?
Baseclick peptides should be considered when alkyne labeled peptides are needed. Azide amino acids are the right tool for metabolic labeling of proteins and to verify inhibitors of protein biosynthesis.
Do you need more information on protein labeling? See our FAQs.
Are you interested to purchase reagents? Request a quote!
Literature
Proteins & Peptides
Detecting de novo synthesized proteins in C. elegans[1] neurons and entire organisms by feeding a clickable amino acid[2]
[1] M. Ullrich, V. Liang, Y. L. Chew, S. Banister, X. Song, T. Zaw, H. Lam, S. Berber, M. Kassiou, H. R. Nicholas, et al., Nat. Protoc. 2014, 9, 2237–2255.
[2] S. T. Dieck, A. Müller, A. Nehring, F. I. Hinz, I. Bartnik, E. M. Schuman, D. C. Dieterich, Curr. Protoc. Cell Biol., 2012, 56, 7.11.1‐7.11.29.
Is it possible to generate azide- or alkyne-modified peptides or proteins?

Yes. Alkyne-modified peptides can be prepared by solid-phase synthesis. Please ask us directly, in case you are interested.
Due to technical reasons, preparation of azide-modified peptides by chemical synthesis is hardly possible.

How can de novo protein biosynthesis be monitored?

De novo protein biosynthesis can be monitored by feeding of metabolite analogues (so-called metabolic labeling) and subsequent click reaction. Azido-homoalanine for example is recognized as a methionine analogue and is incorporated into de novo synthesized proteins in methionine-free medium conditions. The resulting proteins contain azide moieties and thus can be detected after click to an alkyne-containing reporter molecule (e.g. a fluorescent dye).

This non-radioactive method has major practical advantages compared to traditional 35S amino acid incorporation methods.
Alternatively, O-propargyl-puromycin is efficiently incorporated into proteins during de novo protein biosynthesis and can be used in complete medium. The resulting alkyne protein fragments can be detected via click to azide-containing reporter molecules.

What click conditions should be used for protein click reactions?

A catalyst system based on CuSO4 and sodium ascorbate is recommended in combination with Eterneon² dye azides to label alkyne-modified proteins. Please also refer to our general Click protocols for more details.

Due to the 20 (21) amino acids that are the building blocks of proteins, the physicochemical properties of proteins are more diverse compared to oligonucleotides, which are just composed of 5 major building blocks.

Therefore, finding the optimal click conditions is more difficult compared to oligonucleotides and labeling rates are usually lower. Please note that despite these difficulties detection applications (e.g. de novo protein biosynthesis detection) are easily feasible.