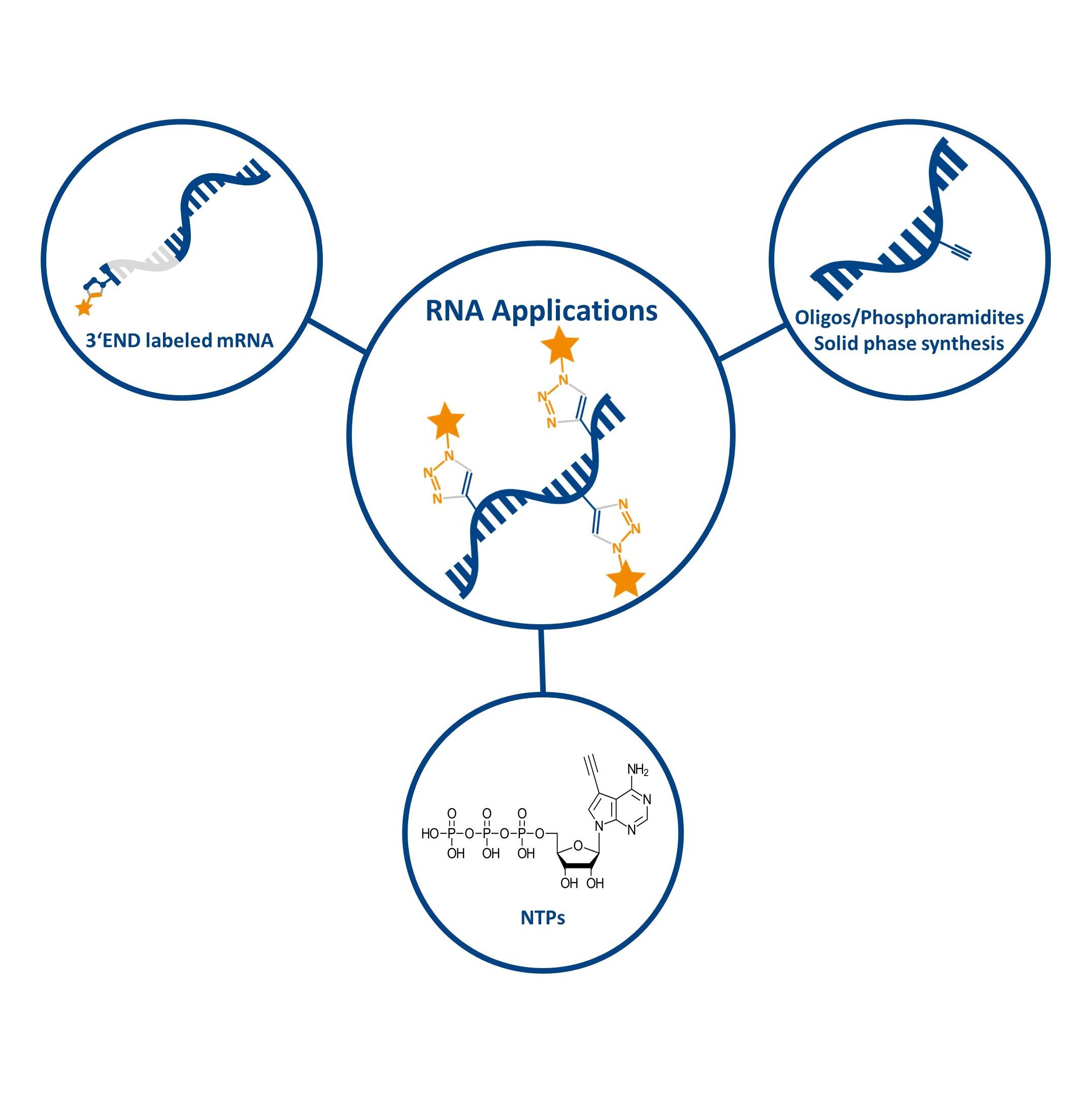 Simple click labeling of RNA and transfection into cells
Do you want to learn how to modify and handle RNA efficiently?
We have your solutions for simple and reliable labeling of RNA and transfection. We offer ready-to-use custom oligonucleotides, but also provide corresponding building blocks to prepare click-ready RNA by enzymatic synthesis. Actually, a click-ready nucleoside can be fed to cells to allow de novo RNA detection.
The key attributes of baseclick's RNA application products are:
High-purity custom oligos for meaningful experiments help you save time.
High quality nucleotides to be used in various applications e.g. for in vitro transcription provide good mRNA yields and quality.
Simple kits for RNA labeling enable click reactions for everyone.
Applications
Baseclick offers all components to prepare labeled short and long RNA oligonucleotides to allow full flexibility for your experiments. They should be considered whenever the standard nucleobases and functionalities are not enough or when detection in complex mixtures is required, e.g. for RNA tracking inside of cells.
Which kit or reagent is the right for me?
Our nucleotides are ideal for researchers to prepare labeled oligonucleotides, applying chemo-enzymatic approaches, e.g. in vitro transcription of RNA. Even the modified nucleoside 5-ethynyluridine can be an option for metabolic labeling. Our kit systems are available for easy preparation of labeled RNAs.
You are not sure what you are looking for or you need a quote? Just contact us.
Literature
RNA Applications
Click chemistry applications on RNA molecules[1][2][3]
(m)RNA as a therapeutic agent[4][5]
Selected references
[1] E. Paredes, S. R. Das, ChemBioChem 2011, 12, 125–131.
[2] S.Croce, S. Serdjukow, T. Carell, T. Frischmuth, ChemBioChem, 2020, 21, 1-7.
[3] M.L. Winz, E. C. Linder, J. Beckera and A. Jäschke, ChemComm, 2018, 54, 11781-11784.
[4] J. Lieberman, Nat. Struct. Mol. Biol. 2018, 25, 357–364.
[5] U. Sahin, K. Karikó, Ö. Türeci, Nat. Rev. Drug Discov. 2014, 13, 759–780.