show blocks helper
Product Application for...
Product Enatiomeric structure
Product Modification Type
2-Azido-2-deoxy-D-glucose
Clickable Sugar for Metabolic Labeling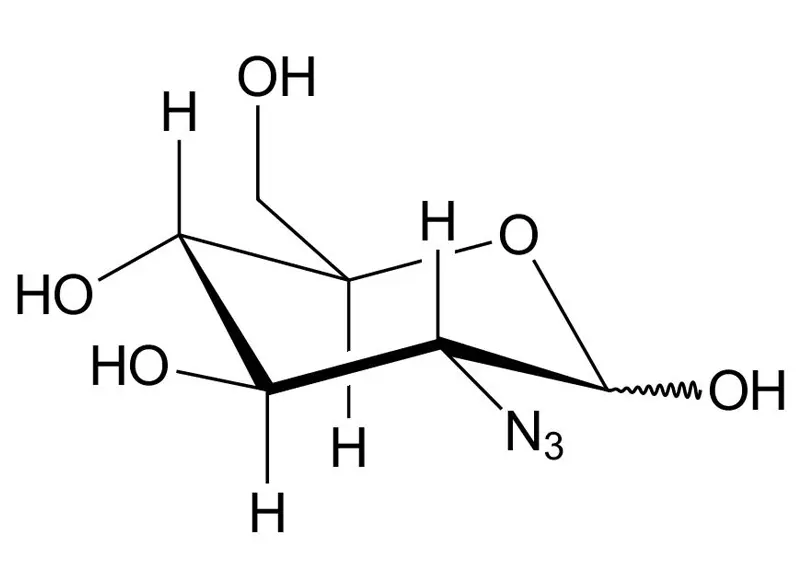 100 mg

BCFA-216-100

106 €
In metabolic labelling, natural molecular building blocks are replaced with chemical analogues, which in turn are modified with specific compounds or moieties such as our clickable sugars. These clickable sugars are integrated by the cells synthesis and modification machinery and allow for easy detection of the target via the click chemistry-based addition of fluorescent dyes.

LITERATURE

R. R. Schmidt, Pure Appl. Chem., 1989, Vol61, No7, 1257-1270. P. V. Chang et al., Angew. Chem. Int. Ed. 2009, 48, 4030-4033.
H. Jiang et al., Bioconjugate Chem. 2014, 25, 698-706.
R.S. Haltiwanger, J.B. Lowe, Annu. Rev. Biochem. 2004, 73, 491-537.
S. Sell, Hum. Pathol. 1990, 21, 1003-1019.
T. Jorgensen et al., Cancer Res. 1995, 55, 1817-1819.

Molecular Formula
Shelf Life

12 months unopened after receipt

Storage Conditions
Molecular Weight
Purity
Physical State
CAS Number
Solubility
Preparation/Handling

For a 10 mM solution add 487 μL to 1mg.