show blocks helper
Product Application for...
Product Enatiomeric structure
Product Modification Type
3`-Alkyne-Modifier Serinol CPG
Clickable Oligo Synthesis Building Block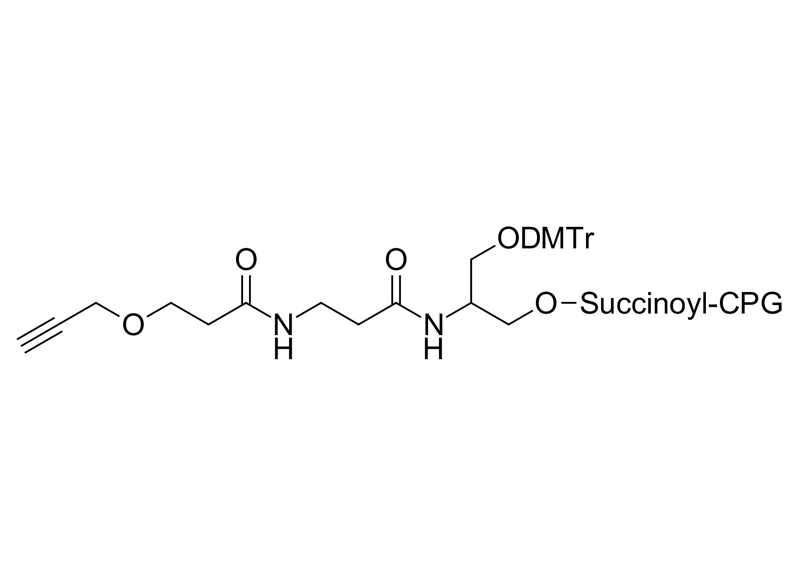 100 mg

BCA-02-100

€ 210,00
Our 3′-Alkyne-Modifier Serinol CPG is designed to introduce alkyne moieties efficently at the 3`end of oligos during standard solid phase synthesis. It can be used in a manner identical to normal (DMT-) protected nucleoside supports. The resulting oligo is then ready for click reactions with various azide moieties.

LITERATURE

R. Kumar, A. El-Sagheer, J. Tumpane, P. Lincoln, L. M. Wilhelmsson, T. Brown, J. Am. Chem. Soc. 2007, 129, 6859–6864.

J. Lietard, A. Meyer, J. J. Vasseur, F. Morvan, Tetrahedron Lett. 2007, 48, 8795–8798.

Molecular Formula
Shelf Life

12 months unopened after receipt

Storage Conditions
Molecular Weight
Purity
Physical State

white to off-white powder

CAS Number
Additional name

3-Dimethoxytrityloxy-2-(3-(3-propargyloxypropanamido)-propanamido)propyl-1-O-succinoyl long chain alkylamino CPG

Preparation/Handling

Coupling: This support should be used in a manner identical to normal protected nucleoside support since it contains the DMT group.
Deprotection: Room temperature Ammonium Hydroxide as required by nucleobases.