show blocks helper
Product Application for...
Product Enatiomeric structure
Product Modification Type
Ac4ManNAI (N-(4-pentynoyl) -mannosamine tetraacylated)
Clickable Sugar for Metabolic Labeling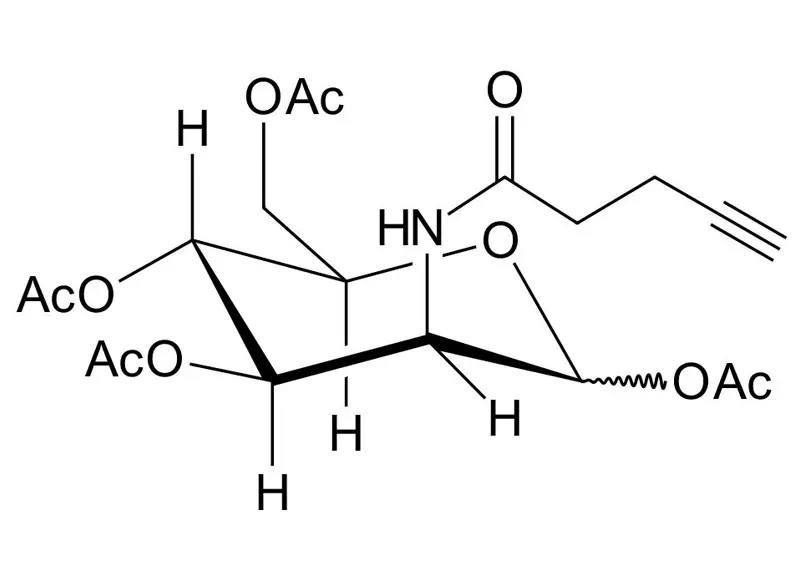 5.0 mg

BCFA-229-5

€ 205,00
25 mg

BCFA-229-25

€ 340,00
Using alkyne or azide sugar derivatives for metabolic labeling is simple and efficient. While some researchers still use radiolabeled monosaccharides, the click chemistry approach is much more user friendly and speeds-up the detection method substantially. Once the alkyne- labeled sugar-derivative is metabolized, visualization is straightforward with a variety of reagents and dyes available, just as for all other copper catalyzed click reactions.

Molecular Formula
Shelf Life

12 months unopened after receipt

Storage Conditions
Molecular Weight
Purity
Physical State

off-white to grey amorphous solid to an oil

CAS Number
Additional name

N-(4-pentynoyl) -mannosamine tetraacylated

Solubility

DMSO, DMF, MeOH, DCM, Chloroform

Preparation/Handling

For a 10 mM solution add 233 μL to 1mg.