show blocks helper
Product Application for...
Product Enatiomeric structure
Product Modification Type
Aminooxy-PEG3-Azide
Bifunctional PEG Linker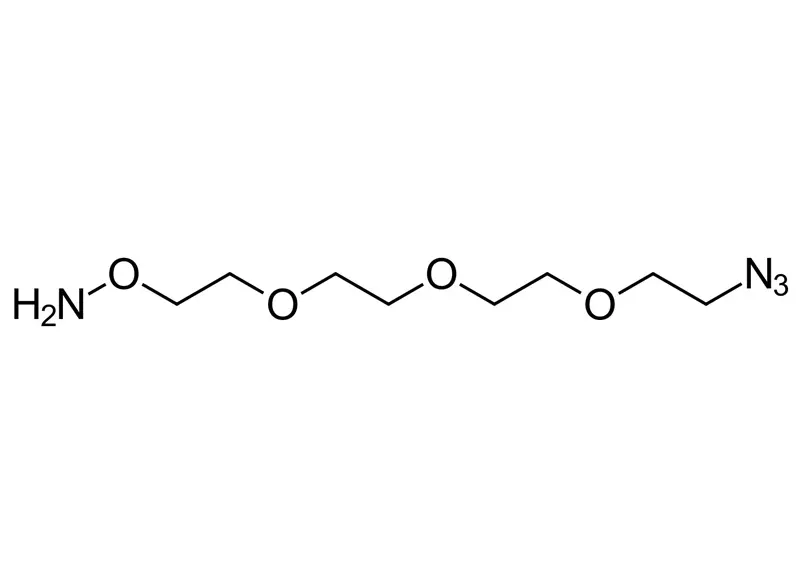 10 mg

BCL-034-10

€ 130,00
The Aminooxy-PEG3-azide is a hetero-bifunctional reagent bearing an aminooxy group and an azide group. The azide allows to crosslink terminal-alkyne (bio-)molecules to compounds bearing aldehydes to generate an oxime bond. In presents of a reducing agent, it will form a hydroxylamine linkage. Thanks to the hydrophilic PEG spacer the compound is water soluble and thus treatment of biomolecules that treated in aqueous media is possible.

LITERATURE

G. N. Grover, J. Lee, N. M. Matsumoto, H. D. Maynardt, Macromolecules, 2012 Juni 26, 45(12), 4858-4965

N. Boehnke, C. Cam, E. Bat, T. Segura, H- D. Maynardt, Biomacromolecules, 2015 Jul 13, 16(7), 2101-8

P. Carberry, A. P. Carpenter, H. F. Kung, Bioorg Med. Chem. Lett., 2011 Dec 1, 21(23), 6992-5

R.J. Mancini, S.J. Paluck, E. Bat, H. D. Maynardt, Langmuir, 2016 Apr 26, 32(16), 4043-51

Y. Jin, L. Song, Y. Su, L. Zhu, Y. Pang, F. Qiu, G. Tong, D. Yan, B. Zhu, X. Zhu, Biomacromolecules, 2011 Oct 10, 12(10), 3460-8

M. Rashidian, S. C. Kumarapperuma, K. Gabrielse, A. Fegan, C. R. Wagner, M. D. Distefano, J. Am. Chem. Soc., 2013 Nov 6, 135(44), 16388-96

J. G. Hardy, P. Jin, C. E. Schmidt, J Biomater Sci Polym Ed., 2015, 26(3):14, 3-61.

Molecular Formula
Shelf Life

12 months unopened after receipt

Storage Conditions
Molecular Weight
Purity
Physical State
CAS Number
Solubility
Preparation/Handling

For a 10 mM solution add 426 μL to 1mg.