show blocks helper
Product Application for...
Product Enatiomeric structure
Product Modification Type
C8-Alkyne-dA CEP
Clickable Oligo Synthesis Building Block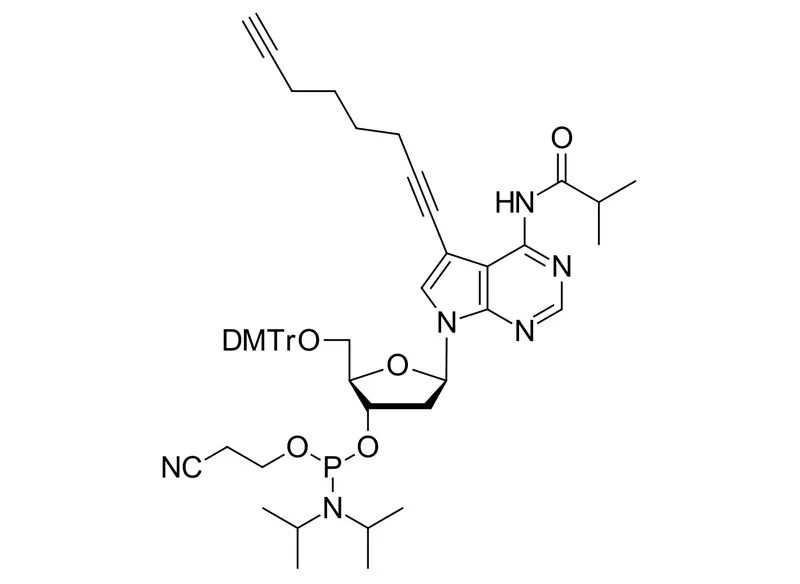 50 µmol (46.36 mg)

BCA-27-50

€ 300,00
100 µmol (92.71 mg)

BCA-27-100

€ 560,00
250 mg

BCA-27-250

€ 1.200,00
This special DNA phosphoramidite with a C8-Spacer between the reactive alkyne group and the backbone is used under standard conditions for solid phase synthesis of oligonucleotides. It has shown to be incorporated into DNA oligomers with excellent coupling efficiency and subsequent use of those oligonucleotides in click reactions is achieved using our different azide labels.

LITERATURE

F. Seela, V. R. Sirivolu, P. Chittepu, Bioconjug. Chem. 2008, 19, 211–224.

Molecular Formula
Shelf Life

12 months unopened after receipt

Storage Conditions
Molecular Weight
Purity
Physical State
CAS Number
Preparation/Handling

Solid-Phase Synthesis Information:
Diluent: Anhydrous acetonitrile (0.1 M final concentration is recommended)
Coupling: Standard protocol as recommended by synthesizer manufacturer.
Deprotection: Standard protocol as for oligonucleotides from standard phosphoramidites.