show blocks helper
Product Application for...
Product Enatiomeric structure
Product Modification Type
Cyanine 5.5-Alkyne
Cy5.5 Alternative Fluorescent Dye Alkyne to label DNA/RNA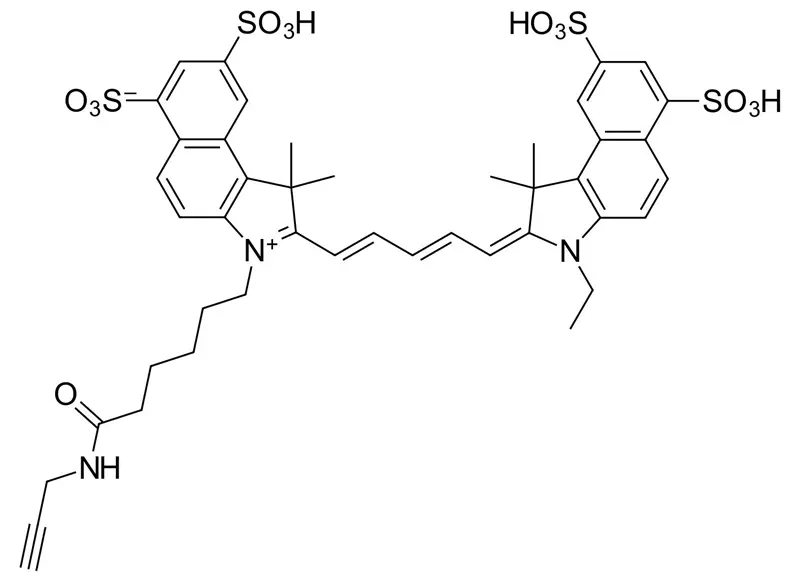 1.0 mg

BCAL-012-1

€ 180,00
5.0 mg

BCAL-012-5

€ 450,00
Cyanine 5.5 Alkyne is a clickable Cy5.5 alternative to fluorescently label azide-functional biomolecules following click reactions.

LITERATURE

T. Nagamine, K. Hayakawa, K. Nakazato, M. Iha, Journal of chromatography B, 2015, 187-193

L. Xiao, J. Guo, Analytical Methods, 2015, 7290-7295

C. Lai, X. Yu, H. Zhuo, N. Zhou, Y. Xie, J. He, Y. Peng, Y, Xie, G. Lou, S. Zhou, Journal of biomedical nanotechnology, 2014, 3576-3589

C. Lui, A. J. Stonestrom, T. Christian, J. Yong, R. Takase, Y. Hou, X. Yang, Journal of Biological Chemistry, 2016, 10426-10436

Molecular Formula
Shelf Life

12 months unopened after receipt

Storage Conditions
Molecular Weight
Purity
Physical State
CAS Number
Additional name

Alexa Fluor 680 alternative; CF 680 dyes alternative; DyLight 680 alternative; IRDye 680RD alternative

Absorption (max)
Emission (max)
Ɛ (max)

PBS, pH 7.5: 190,000 cm-1M-1

Solubility
Preparation/Handling

For a 10 mM solution add 105 μL to 1 mg.
For a 10 mM solution add 524 μL to 5 mg.