show blocks helper
Product Application for...
Product Enatiomeric structure
Product Modification Type
Cyanine 5 Azide
Cy5 alternative Fluorescent Dye to label DNA/RNA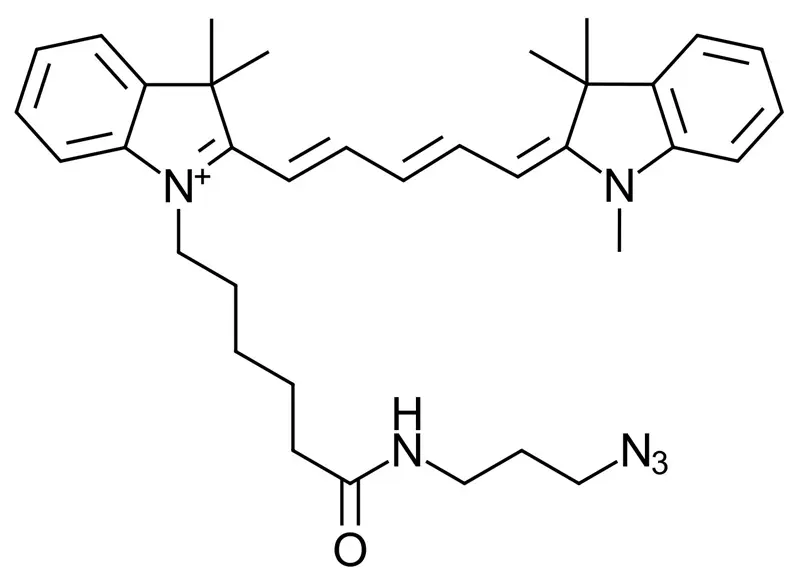 Cyanine 5 azide is a clickable Cy5 alternative to fluorescently label biomolecules following click reactions.

LITERATURE

F. Rancan, H. Volkmann, M. Giulbudagian, F. Schumacher, J. I. Stanko, B. Kleuser, U. Blume-Peytavi, ;. Calderón, A. Vogt, Nanogels. Pharmaceutics, 2019, 11(8), E394

R. Kasprzyk, B. J. Starek, S. Ciechanowicz, D. Kubacka, J. Kowalska, J. Jemielity, Chemistry, 2019, 25(27), 6728-6740

Molecular Formula
Shelf Life

12 months unopened after receipt

Storage Conditions
Molecular Weight
Purity
Physical State
CAS Number
Excitation (max)
Emission (max)
Ɛ (max)
Solubility
Preparation/Handling

For a 10 mM solution add 166 μL to 1 mg.