Product Application for...
Product Enatiomeric structure
Product Modification Type
Eterneon²488 Azide (FITC alternative)
Fluorescent dye to label DNA/RNA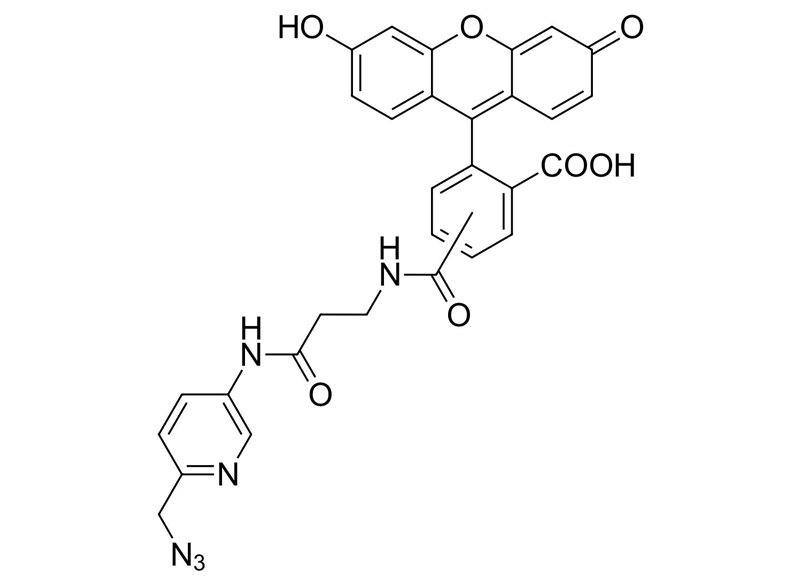 This special green-fluorescent dye enables advanced click reaction kinetics. Therefore, less amount of copper can be used achieving the same reaction efficiency. This effect can be crucial e.g. when copper sensitive enzyme or biomolecules shall be labeled. Once clicked to a biomolecule fluorescence detection is identical to FAM, FITC, or any other alternative dye.

LITERATURE

Single-Particle Tracking and Modulation of Cell Entry Pathways of a Tetrahedral DNA Nanostructure in Live Cells, L. Liang et al., 2014, Angew. Chemie Int. Ed., Vol. 53, p. 7745–7750.

Molecular Formula
Shelf Life

12 months unopened after receipt

Storage Conditions
Molecular Weight
Purity
Physical State
CAS Number
Additional name

FITC alternative; Alexa Fluor 488 alternative; CF Dye 488 alternative; DyLight 488 alternative

Excitation (max)
Emission (max)
Ɛ (max)

PBS, pH 7.5: 76,000 cm-1M-1

Solubility
Preparation/Handling

For a 10 mM solution add 172 μL to 1 mg.
For a 10 mM solution add 861 μL to 5 mg.