show blocks helper
Product Application for...
Product Enatiomeric structure
Product Modification Type
Eterneon²678 Azide (Cy5.5TM alternative)
Ultra sensitive Fluorescent Dye to label DNA/RNA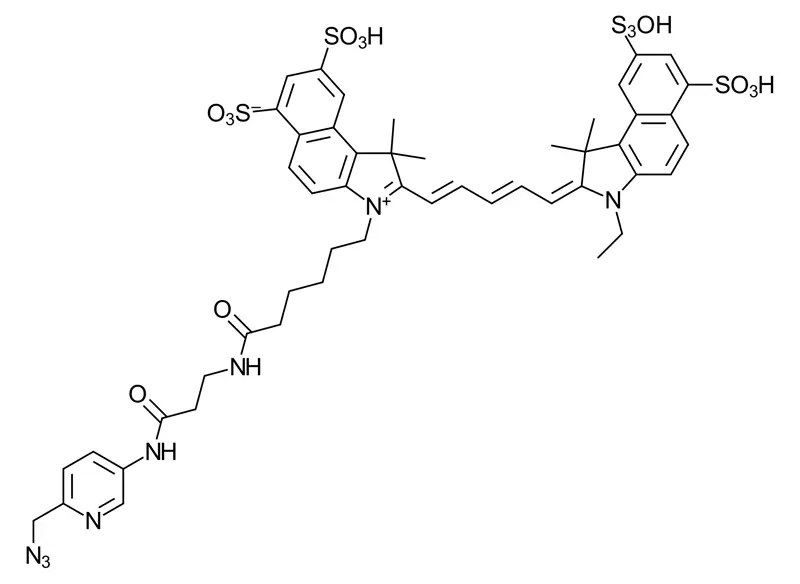 This special red-emitting fluorescent dye exhibits advanced click reaction kinetics. Therefore, also less amount of copper can be used in the reaction mixture without any effect on the great reaction efficiency. This effect can be crucial e.g. when copper sensitive enzyme or biomolecules shall be labeled. Once attached to a biomolecule fluorescence microscopy detection can be carried out just like with Cy5.5, or any other alternative dye.

LITERATURE

H. Jiang et al, Bioconjugate Chem., 2014, 25, 698-706

C. Uttamapinant, et al., Angew. Chem. Int. Ed., 2012, 51, 5852-56

A. Geabler et al., J- Lipid. Res., 2016, 57, 1934-47

What are the Eterneon dyes?

Our EterneonTM dyes are a special class of ultra-stable fluorescent dyes. Our long stokes-shift ones even have well separated peaks of absorbance and emission, so it is very convenient to characterize your sample with very sharp and strongly fluorescent signals. These special dyes are oligothiophene based, uncharged and not pH sensitive.

Molecular Formula
Shelf Life

12 months unopened after receipt

Storage Conditions
Molecular Weight
Purity
Physical State
CAS Number
Additional name

Cy5.5TM alternative; Alexa Fluor 680 alternative; IRDye 680RD alternative; CF Dye 680 alternative; DyLight 680 alternative

Absorption (max)
Emission (max)
Ɛ (max)

PBS; pH 7.5: 190,000 cm-1M-1

Solubility
Preparation/Handling

For a 10 mM solution add 89 μL to 1 mg.