show blocks helper
Product Application for...
Product Enatiomeric structure
Product Modification Type
NHS-C3-Azide
Bifunctional Linker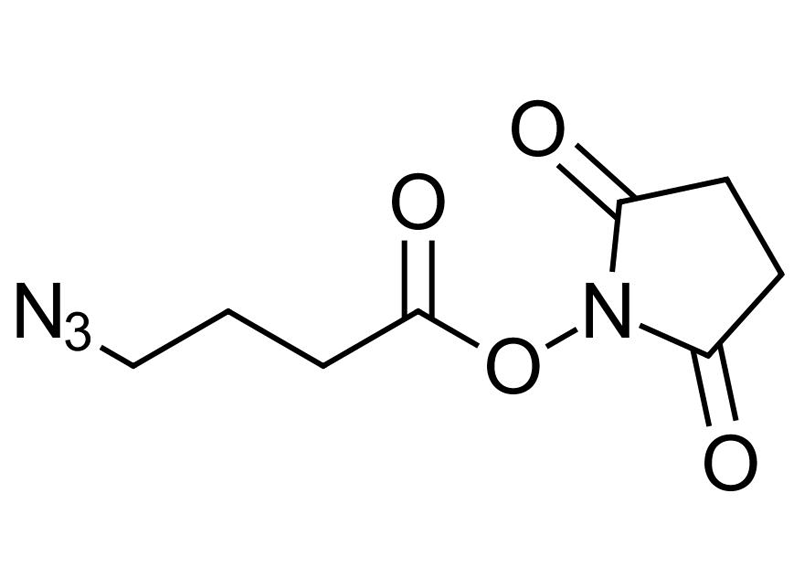 This hetero-bifunctional reagent allows to crosslink alkyne (bio-)molecules to compounds bearing primary amines. The NHS ester group will react covalently with primary amines while the azide can undergo click reaction in catalyzed conditions with terminal alkynes. This linker is often used to introduce azide moieties into amino-oligonucleotides after solid phase synthesis.

LITERATURE

W. Hou, Y. Li, W. Kang, X. Wang, X. Wu, S. Wang, F. Liu, Scientific Reports, 2019, 9, 1307

A.E. Kuznetsov, N. V. Komarova, E. V. Kuznetsov, M. S. Andrianova, V. P. Grudtsov, E. N. Rybachek, K. V. Puchnin, D. V. Ryazantsev, A. N. Saurov, Biosensors and Bioelectronics,
2019, 129, 29-35

P. Kumar, F. M. Kuhlmann, S. Chakroborty, A. L. Bourgeois, J. Foulke-Abel, B. Tumala, T. J. Vickers, D. A. Sack, B. DeNearing, C. D. Harro, W. S. Wright, J. C. Gildersleeve, M. A. Ciorba, S. Santhanam, C. K. Porter, R. L. Gutierrez, M. G. Prouty, M .S. Riddle, A. Polino, A. Sheikh, M. Donowitz, J. M. Fleckenstein, The Journal of clinical investigation, 2018, 128(8), 3298-3311

M. Andrianova, N. Komarova, V. Grudtsov, E. Kuznetsov, Sensores, 2018, 18, 49

A. Kuznetsov, N. Komarova, M. Andrianova, V. Grudtsov, E. Kuznetsov, Microchimica Acta, 2018, 185(1), 3

M. Taskova, L. Miotke, M. Kubit, J. Bell, H. P. Ji, K. Astakhova, Analytical Chemistry, 2017, 89(8), 4363–4366

J. Bu, A. L. Pilo, S. A. McLuckey, International Journal of Mass Spectrometry, 2015, 309, 118-123

I. Potapova, D. Eglin, M. W. Laschke, M. Bischoff, R. G. Richards, T. F. Moriarty, Journal of Microbiological Methods, 2013, 92(1), 90-98

Molecular Formula
Shelf Life

12 months unopened after receipt

Storage Conditions
Molecular Weight
Purity
Physical State
CAS Number
Additional name

gamma-Azidobutyric acid oxysuccinimide ester; γ-Azidobutyric acid NHS; 2,5-dioxopyrrolidin-1-yl 4-azidobutanoate

Solubility
Preparation/Handling

For a 10 mM solution add 442 μL to 1mg.