Our mission

We are enabling life science researchers to overcome challenges and create better solutions in diagnostics, therapeutics and vaccines development through our proprietary click chemistry
mRNA VACCINE DEVELOPMENT</>
baseclick, the leading force in Nobel Prize winning Click Chemistry – the story
In the late 1990s, Click Chemistry has been discovered by Prof. Dr. Morten Meldal and Prof. Dr. Barry Sharpless as the fundament for Bioorthogonal Chemistry. Later on, Prof. Dr. Carolyn Bertozzi added an important step by developing click chemistry towards copper free applications, which revolutionized the use of click chemistry in and on life cells.
"This breakthrough research was awarded with the Nobel Prize for Chemistry in 2022".
 In 2006, Prof. Dr. Thomas Carell published his first paper on click chemistry by using the original copper-catalysed version of click chemistry to combine DNA with sugar molecules. This was followed by several other publications and inventions in the field of click chemistry for nucleic acid modification which have paved the way to successfully commercialize click chemistry.
In 2008, BASF Company recognized the enormous future potential of utilizing the click chemistry concept for bioconjugation of nucleic acids and founded baseclick GmbH together with Prof. Dr. Thomas Carell.
baseclick under the leadership of Dr. Thomas Frischmuth in cooperation with Prof. Dr. Carell and his group at the Ludwig-Maximilians University Munich (LMU), has established a broad portfolio of click chemistry reagents and various click chemistry kits for EdU-based cell proliferation assay, oligonucleotide modification chemistry, click-based FISH technologies as well as PCR based diagnostic applications, to name a few. Recently baseclick also developed a kit for massive parallel sequencing, the so-called next generation sequencing of second/third-generation. This portfolio is protected by the most comprehensive set of patents in the field.
baseclick's Licensees and Distributors have introduced these products and services successfully into the market making baseclick today the leading force in enabling new click chemistry solutions and products.
DNA and RNA applications in click chemistry have been a part of baseclick's offer to the research community for quite a long time. The recent movement towards mRNA, siRNA and antisense oligonucleotides R&D and the potential role of click chemistry in these fields, now opens new and highly promising perspectives for baseclick and its partners.
baseclick GmbH now offers access to its know-how and IP to researchers and industry partners in Pharma and Vaccine R&D through enlarged RNA / DNA services, high profile consulting and cooperation's with Industry.
Our highlights
Our lab expertise in click chemistry of nucleic acid drug and vaccine development is also available as a service
Our specialized custom oligonucleotide service to produce drug substances like aptamers, siRNA and more
Specific cellular uptake can be achieved with mRNA clicked to targeting agents and generated via our mRNA production service
Directly to our products and services
Science
Development of a XBP1 Sequencing Kit
MILESTONE
Background:
baseclick is developing a diagnostic research tool for breast cancer, glioblastoma and prostate cancer. A very good candidate is the transcription XBP1. Expression of mutated XBP1 has been implicated in cancer progression. Its functions as transcription factor and depletion of normal XBP1 as well as expression of mutated XBP1 in cancer cells leads to cell division. Mutated XBP1 is produced in stressed cells and cancer situation when the IRE1 switches from its normal chaperon function in the ER to RNase function and unnatural cytoplasmic splicing of XBP1 mRNA occurs (XBP1s/XBP1u) leading to two forms of XBP1 protein in cancer cells. Triple-negative breast cancer (TNBC) lacks targeted therapies and has a worse prognosis than other breast cancer subtypes, underscoring an urgent need for new therapeutic targets and strategies. Our goal is to identify the best treatment for every single patient (enables personalized medicine) and monitor the treatment via transcriptome analysis.
Cooperation partner:
National University of Ireland, Galway
IRE1/XBP1 drug development
MILESTONE
Background:
The trans autophosphorylation of the kinase domain of IRE1 activates its unusual effector function, which causes the unconventional splicing of the mRNA that encodes a transcription factor XBP1. Abnormalities in XBP1 lead to ER stress and subsequently causes susceptibility for inflammatory processes that contribute to cancer. baseclick started a program whereby oligonucleotides are tested to inhibit RNase activity of IRE1 for anticancer therapy.
Cooperation partner:
National University of Ireland, Galway
Inhibition of SARS-CoV-2 replication
MILESTONE
Backgorund:
Development of RNA / DNA gene scissors for specific cleavage of viral SARS-CoV-2 genomes to inhibit viral replication. The overall goal is to design a SARS-CoV-2 drug based on an artificial gene editing method. Therefore, an oligo linked with a metal complexes capable of cutting will direct the "gene scissor" to the SARS-CoV-2 RNA in infected cells leading to inhibition of viral replication.
Cooperation partner:
Dublin City University, Ireland
On 20-22 March baseclick will attend the Bio-Europe Spring 2023 in Basel (CH). We are looking forward to meeting you
MORE →
From the 13th to the 14th of March 2023 our CEO Dr. Thomas Frischmuth will take part in the 8th Annual OPT Congress – Oligonucleotide
MORE →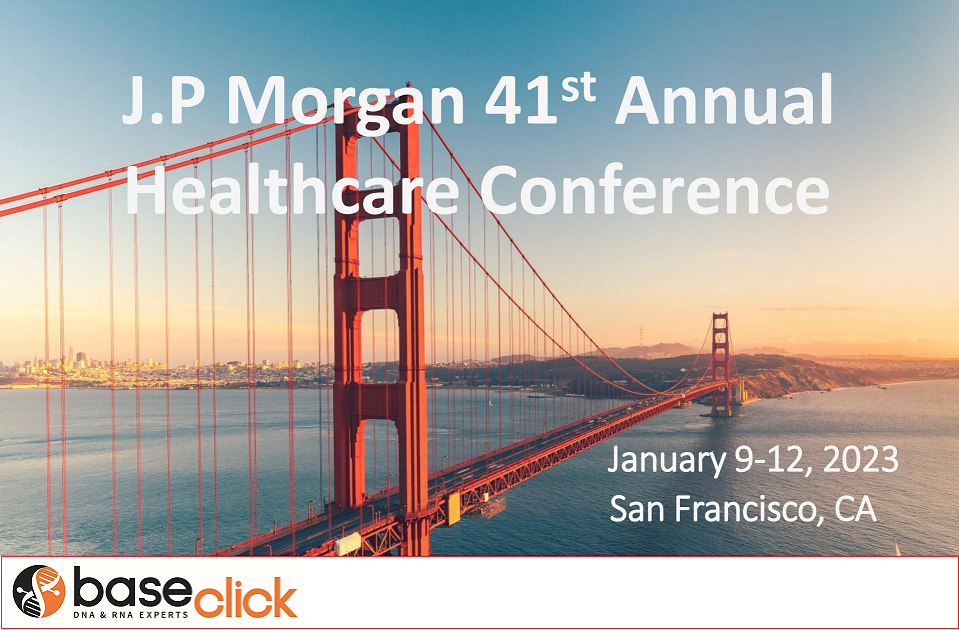 baseclick will attend the J.P Morgan 41st Annual Healthcare Conference from the 9th to the 12th of January 2023 in San Francisco, CA, USA. This
MORE →
BIO-Europe Spring 2023 in Basel
On 20-22 March baseclick will attend the Bio-Europe Spring 2023 in Basel (CH). We are looking forward to meeting you
MORE →
8th Annual OPT Congress – Oligonucleotide & Precision Therapeutics
From the 13th to the 14th of March 2023 our CEO Dr. Thomas Frischmuth will take part in the 8th Annual OPT Congress – Oligonucleotide
MORE →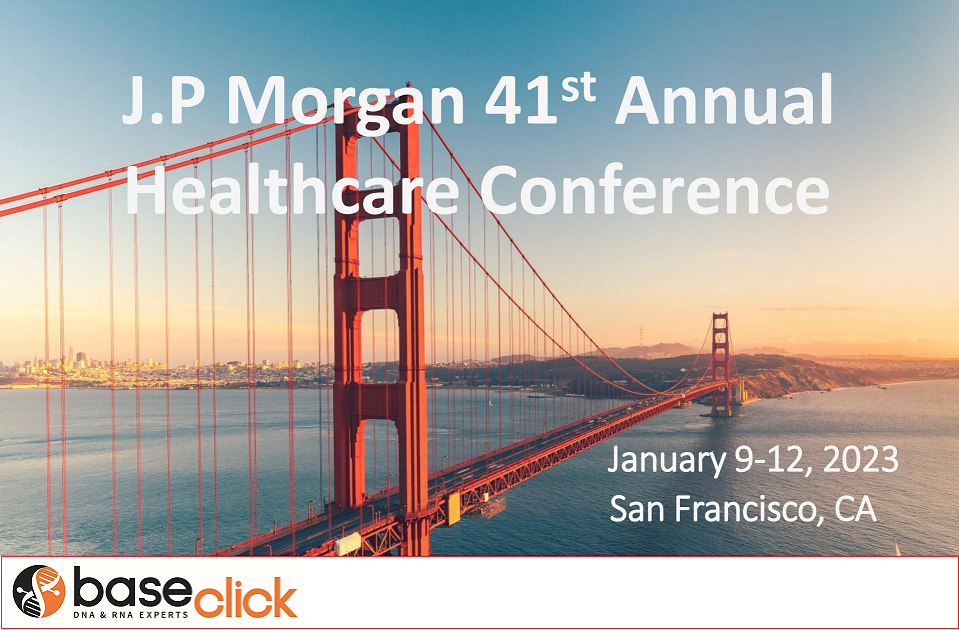 J.P. Morgan 41st Annual Healthcare Conference
baseclick will attend the J.P Morgan 41st Annual Healthcare Conference from the 9th to the 12th of January 2023 in San Francisco, CA, USA. This
MORE →