show blocks helper
Product Application for...
Product Enatiomeric structure
Product Modification Type
3-Azido-7-hydroxycoumarin
Switch-on Dye to label DNA/RNA via click chemistry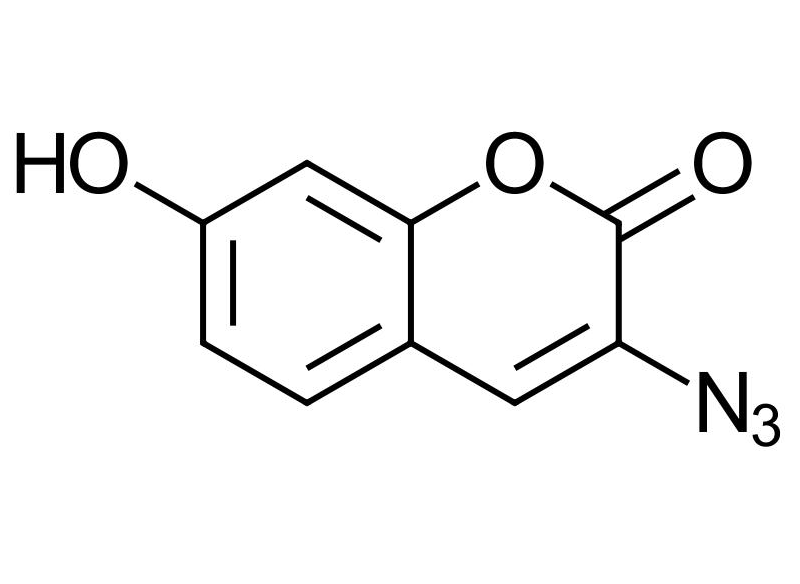 1.0 mg

BCFA-047-1

€ 60,00
5.0 mg

BCFA-047-5

€ 150,00
The 3-Azido-7-hydroxycoumarin has the special property to become fluorescent only when it is click ligated. The formed tiazole bond expands then the electron system of the dye and it lights up upon excitation. As basically background signal due to left over dye reagent is not visible, this dye is a valuable tool for nucleic acid labeling.

LITERATURE

Laughlin et al, Sci USA, 2009, 106 (1):12

Li et al, Biotechniques, 2010, 49 (1):525

Sivakumar et al, Org. Lett., 2004, 6 (24):4603

Molecular Formula
Shelf Life

12 months unopened after receipt

Storage Conditions
Molecular Weight
Purity
Physical State

amber to brown crystalline solid

CAS Number
Additional name

3-Azido-7-hydroxy-chromen-2-on; 3-Azido-7-
hydroxy-chroman-2-one

Excitation (max)

before click reaction: 260 nm
after click reaction: 404 nm

Emission (max)

before click reaction: 391 nm
after click reaction: 480 nm

Solubility
Preparation/Handling

For a 10 mM solution add 492 μL to 1mg.