Product Application for...
Product Enatiomeric structure
Product Modification Type
3-Azido-7-hydroxycoumarin
Switch-on dye to label DNA/RNA via click chemistry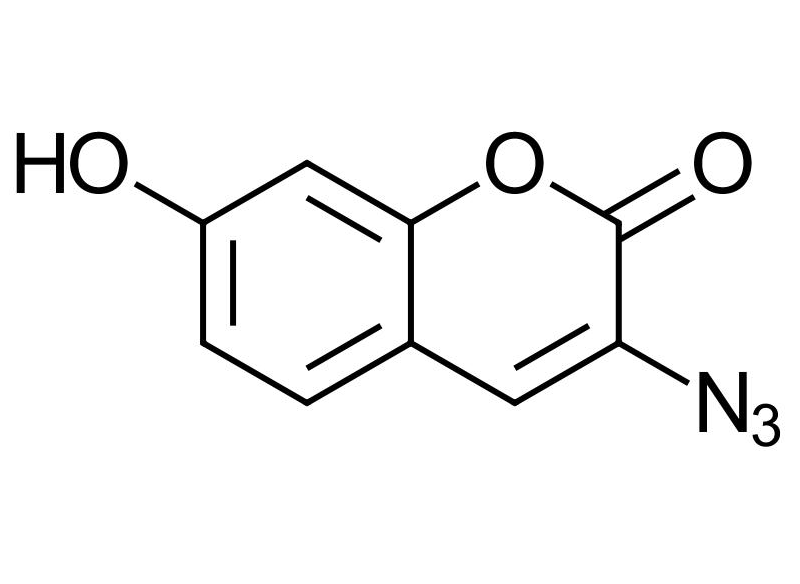 3-Azido-7-hydroxycoumarin has the special property to become fluorescent only when it is click ligated. The formed triazole expands the electron system of the dye and enables fluorescence. Therefore, there is no background signal of the click unligated leftover dye. This dye is a valuable tool for nucleic acid labeling.

LITERATURE

Imaging the glycome, Laughlin et al, 2009, Sci USA, Vol. 106, p. (1):12

https://doi.org/10.1073/pnas.0811481106

Fluorogenic "click" reaction for labeling and detection of DNA in proliferating cells, Li et al, 2010, Biotechniques, Vol. 49, p. (1):525

https://doi.org/10.2144/000113463

A Fluorogenic 1,3-Dipolar Cycloaddition Reaction of 3-Azidocoumarins and Acetylenes, Sivakumar et al, 2004, Org. Lett., Vol. 6, p. (24):4603

https://doi.org/10.1021/ol047955x

Site-Directed Immobilization of Bone Morphogenetic Protein 2 to Solid Surfaces by Click Chemistry, C. Siverino et al., 2018, Journal of Visualized Experiments, Vol. 133, e56616.

Characterization and Scaled-Up Production of Azido-Functionalized Silk Fiber Produced by Transgenic Silkworms with an Expanded Genetic Code, H. Teramoto et al., 2019, International Journal of Molecular Sciences, Vol. 20(3), p. 616.

https://doi.org/10.3390/ijms20030616

A lipid transfer protein knockout library reveals ORP9-ORP11 dimer mediating PS/PI(4)P exchange at the ER-trans Golgi contact site to promote sphingomyelin synthesis, B. Cabukusta et al., 2023, bioRxiv.

https://doi.org/10.1101/2023.06.02.543249

Trifunctional lipid probes for comprehensive studies of single lipid species in living cells, D. Höglinger, 2017, Proceedings of the National Academy of Sciences, Vol. 114(7), p. 1566-1571.

Molecular Formula
Shelf Life

12 months unopened after receipt

Storage Conditions
Molecular Weight
Purity
Physical State

amber to brown crystalline solid

CAS Number
Additional name

3-Azido-7-hydroxy-chromen-2-on; 3-Azido-7-
hydroxy-chroman-2-one

Excitation (max)

before click reaction: 260 nm
after click reaction: 404 nm

Emission (max)

before click reaction: 391 nm
after click reaction: 480 nm

Solubility
Preparation/Handling

For a 10 mM solution add 492 μL to 1 mg.