[woof sid="shoppingCart" autohide=0]
AZDye 647 Azide Plus
Improved 647 dye to label with reduced copper concentrations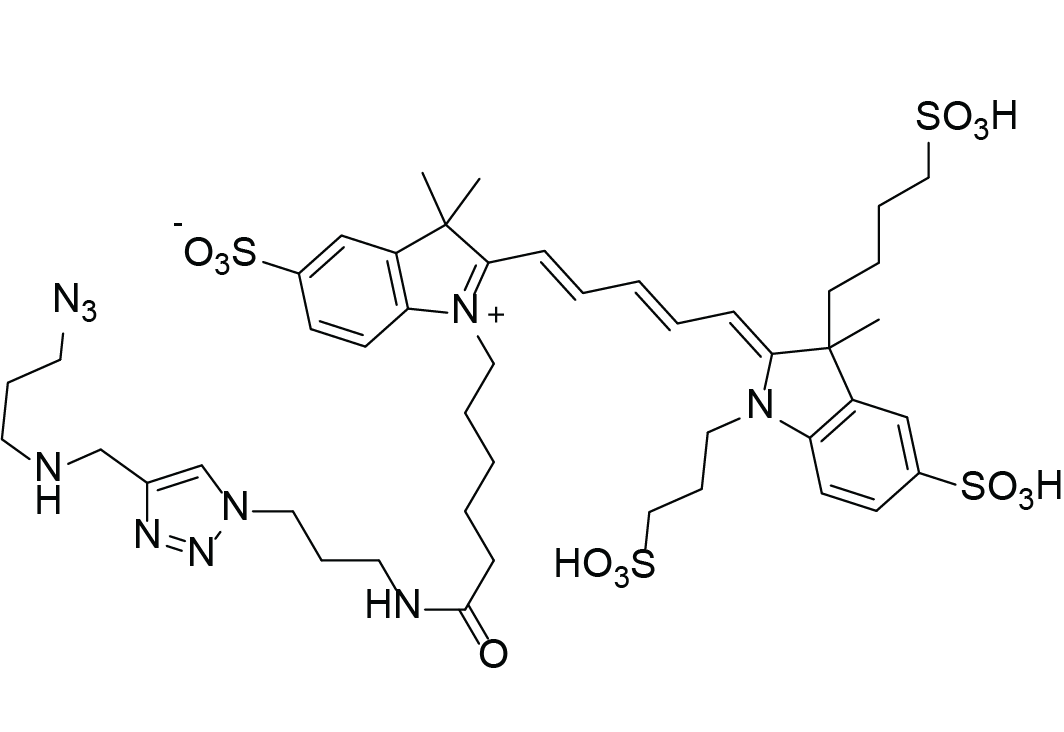 This special red fluorescent dye exhibits advanced click reaction kinetics due to molecular structure that works as a strong copper-chelating system allowing the formation of a strong and active copper complex, that makes AZDye 647 Azide Plus the reactant and the catalyst in the CuAAC reaction. Therefore, also less amount of copper can be used in the reaction mixture without any effect on the great reaction efficiency. This effect can be crucial e.g. when copper sensitive enzyme or biomolecules shall be labeled. Once attached to a biomolecule, fluorescence microscopy detection can be carried out just like with Cy5, or any other alternative dye.

LITERATURE

Optimized incorporation of alkynyl fatty acid analogs for the detection of fatty acylated proteins using click chemistry, L. M. Q. Liao et al., 2021, JoVE (Journal of Visualized Experiments), Vol. 170, e62107.

Acute Oxidative Stress Can Paradoxically Suppress Human NRF2 Protein Synthesis by Inhibiting Global Protein Translation, K. M. Pensabene et al., 2023, Antioxidants, Vol. 12(9), 1735.

Molecular Formula
Shelf Life

12 months unopened after receipt

Storage Conditions
Molecular Weight
Purity
Physical State
CAS Number
Excitation (max)
Emission (max)
Ɛ (max)
Solubility
Preparation/Handling

For a 10 mM solution add 91.4 μL to 1 mg.
For a 10 mM solution add 457 μL to 5 mg.