[woof sid="shoppingCart" autohide=0]
DBCO-PEG4-Biotin
Biotinylation reagent for labeling by SPAAC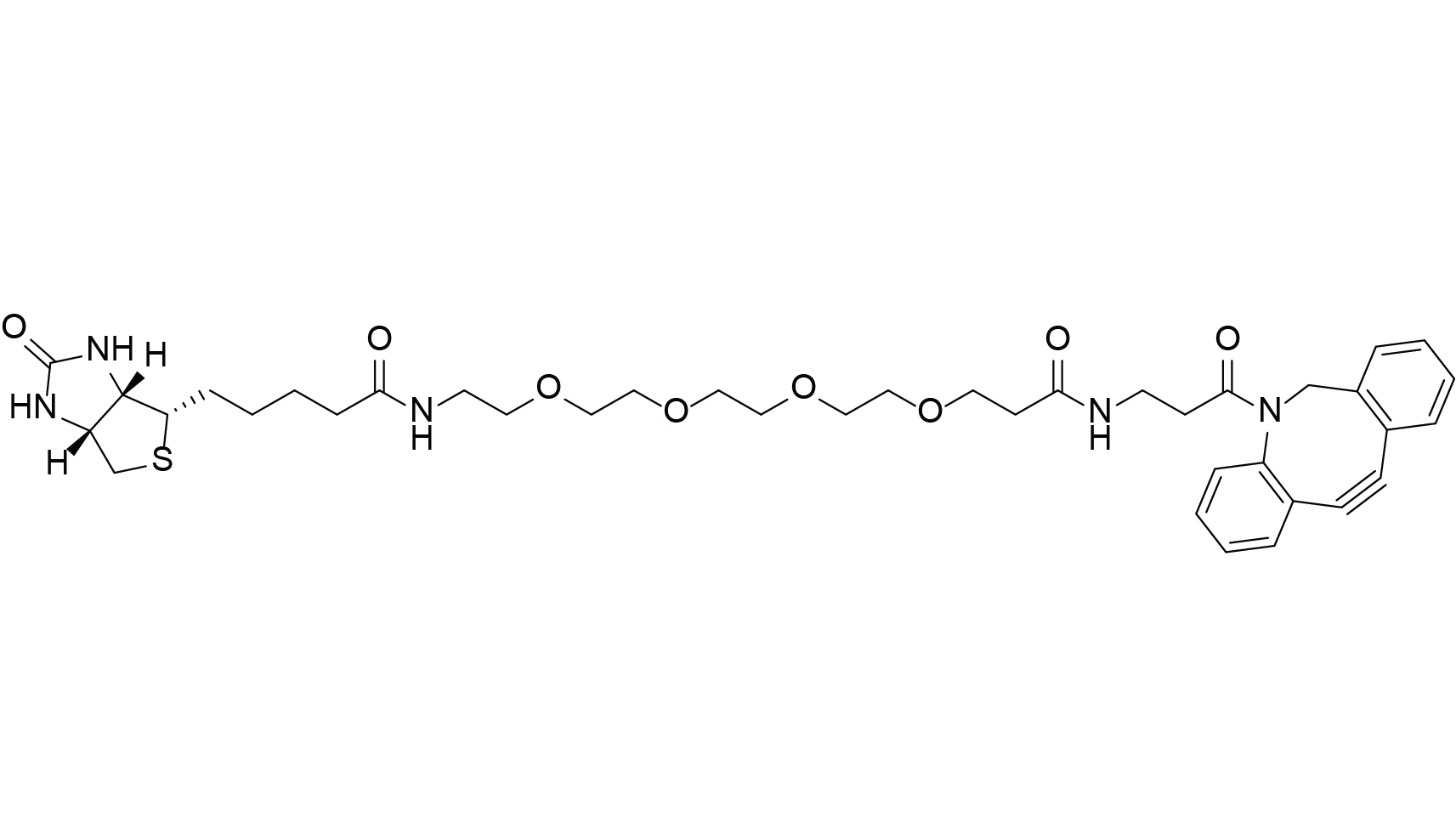 10 mg

BCFA-232-10

€ 180,00
DBCO-PEG4-Biotin is a biotin probe that enables the possibility for copper-free click chemistry, which is mostly used in reaction where cytotoxic copper catalyst is not an option as live cell surface glycans or lipid studies. The click reaction takes place via strain-promoted Alkyne-Azide Chemistry (SPAAC) which does not need a Cu (I) catalysis or heating. Once the biotin is attached to a biomolecule, fluorescence microscopy detection can be carried out using the well-known signal enhancement strategy of incubation with a fluorescent streptavidin-conjugate.

The introduction of the hydrophilic PEG4-moity (19 atoms, 22.8 Å) reduces aggregation and precipitation during the labeling reaction and also enhances the detection efficiency of the biotin due to reducing sterically hindrance.

LITERATURE

DNA Adduct Detection after Post‐Labeling Technique with PCR Amplification (DNA‐ADAPT–qPCR) Identifies the Pre‐ribosomal RNA Gene as a Direct Target of Platinum–Acridine Anticancer Agents, X. Yao et al., 2021, Chemistry–A European Journal, Vol. 27(59), p. 14681-14689.

https://doi.org/10.1002/chem.202102263

Bisulfite-free, single base-resolution analysis of 5-hydroxymethylcytosine in genomic DNA by chemical-mediated mismatch, Y. Wang et al., 2018, Chemical Science, Vol. 10(2), p. 447-452.

https://doi.org/10.1039/C8SC04272A

O-GlcNAcylation of blimp-1 in lymphocytes inhibits its transcriptional function and is associated with migration and invasion of breast cancer cells, Y. F. Chen et al., 2022, Molecular Cancer Research, Vol. 20(4), p. 650-660.

Molecular Formula
Shelf Life

12 months unopened after receipt

Storage Conditions
Molecular Weight
Purity
Physical State

white to grey amorphous solid

CAS Number
Solubility

DMSO, DMF, MeOH, DCM, THF

Preparation/Handling

For a 10 mM solution add 667 μL to 5 mg.
For a 10 mM solution add 1334 μL to 10 mg.