show blocks helper
Product Application for...
Product Enatiomeric structure
Product Modification Type
5-Carboxytetramethylrhodamine-PEG3-Azide (5-TAMRA-PEG3-Azide)
Fluorescent Dye to label DNA/RNA via click chemistry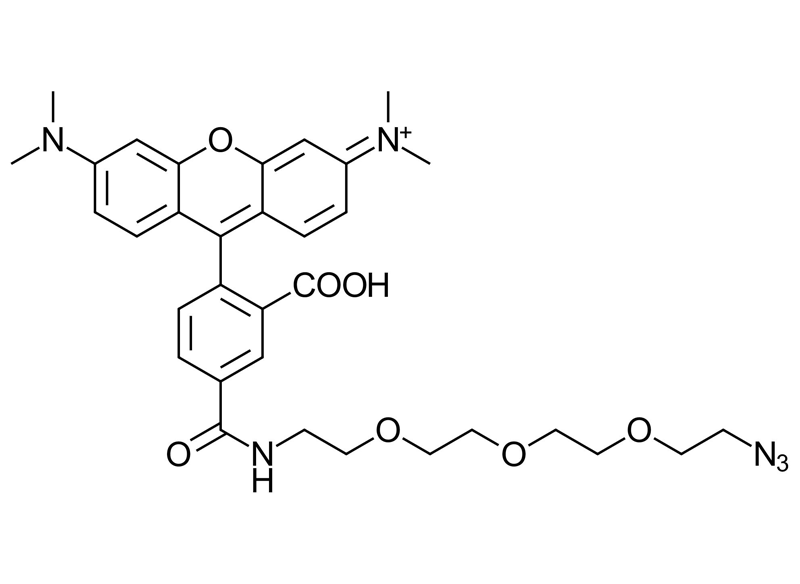 5.0 mg

BCFA-037-5

€ 80,00
10 mg

BCFA-037-10

€ 125,00
100 mg

BCFA-037-100

€ 500,00
5-TAMRA-PEG3-azide has a PEG3 spacer that separates the dye core from the attachable biomolecule by 3 PEG groups and thus minimizes possible interactions between both. Just like many rhodamine-based dyes, it is quite photostable between pH 4 and 9.

Molecular Formula
Shelf Life

12 months unopened after receipt

Storage Conditions
Molecular Weight
Purity
Physical State
CAS Number
Additional name

5-Carboxytetramethylrhodamine-PEG3-Azide

Excitation (max)
Emission (max)
Ɛ (max)
Solubility

DMSO, DMF, MeOH, slightly soluble in water

Preparation/Handling

For a 10 mM solution add 158 μL to 1mg.