[woof sid="shoppingCart" autohide=0]
AZDye 488 Azide Plus
Improved 488 dye to label with reduced copper concentrations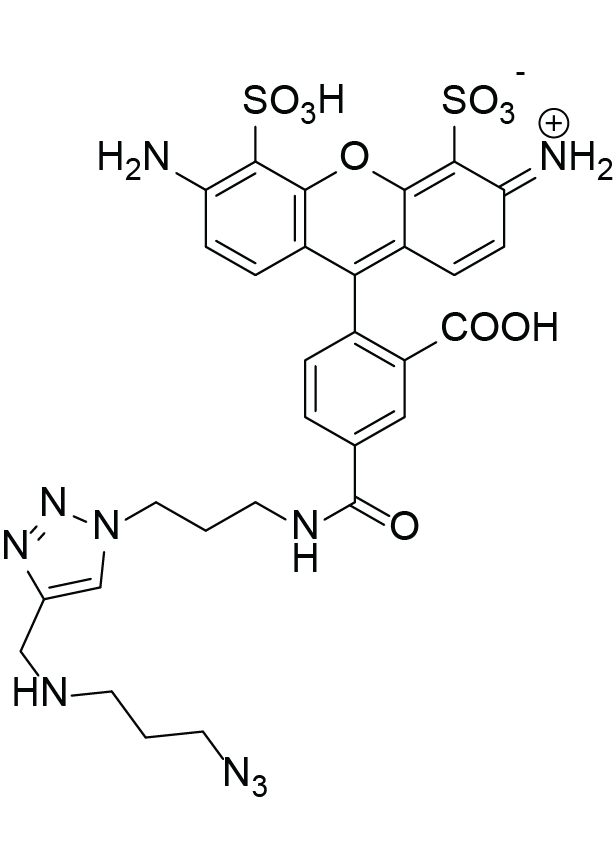 This special green-fluorescent dye enables advanced click reaction kinetics due to molecular structure that works as a strong copper-chelating system allowing the formation of a strong and active copper complex, that makes AZDye 488 Azide Plus the reactant and the catalyst in the CuAAC reaction. Therefore, less amount of copper can be used achieving the same reaction efficiency. This effect can be crucial e.g. when copper sensitive enzyme or biomolecules shall be labeled. Once clicked to a biomolecule fluorescence detection is identical to FAM, FITC, or any other alternative dye.

LITERATURE

In-depth immunometabolic profiling by measuring single-cell protein translation inhibition via bioorthogonal noncanonical amino acid tagging (SCENITH-BONCAT), F. Vrieling et al., 2023, bioRxiv, 2023-08.

Molecular Formula
Shelf Life

12 months unopened after receipt

Storage Conditions
Molecular Weight
Purity
Physical State
CAS Number
Excitation (max)
Emission (max)
Ɛ (max)
Solubility
Preparation/Handling

For a 10 mM solution add 132 μL to 1 mg.
For a 10 mM solution add 662 μL to 5 mg.