[woof sid="shoppingCart" autohide=0]
DBCO-AF488
Dye to label by SPAAC in copper-free environment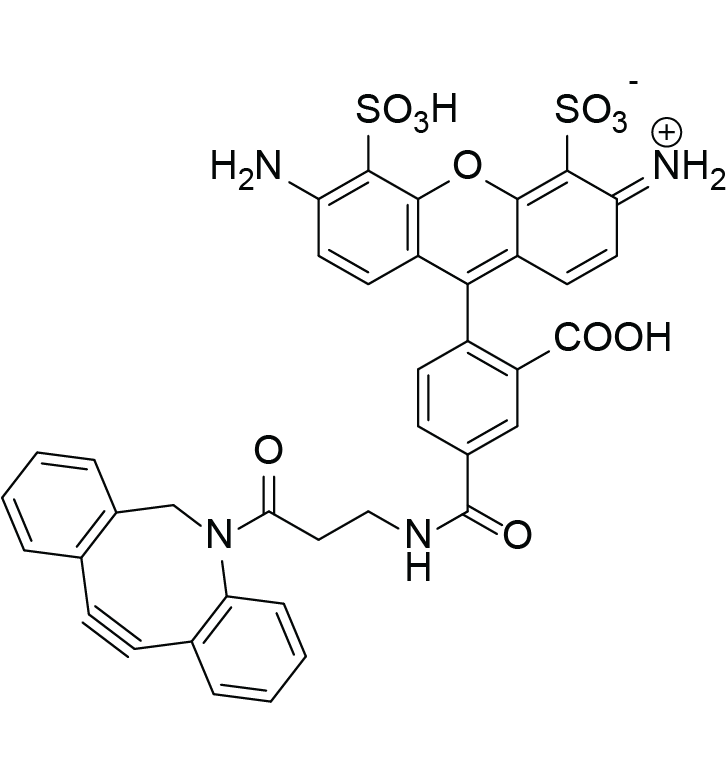 This green-fluorescent DBCO-AF488 dye enables the possibility for copper-free click chemistry which is mostly used in reaction where cytotoxic copper catalyst is not an option. The click reaction takes place via strain-promoted Alkyne-Azide Chemistry (SPAAC) which does not need a Cu (I) catalysis or heating. Once clicked to a biomolecule fluorescence detection is identical to FAM, FITC, or any other alternative dye.

LITERATURE

A metabolic labeling way to in situ fabricate bacterial FRET Platform for innate immune defence molecule, Z. Zhang et al., 2022, Sensors and Actuators B: Chemical, Vol. 350, 130913.

https://doi.org/10.1016/j.snb.2021.130913

Model of collective detachment in high-grade serous ovarian cancer demonstrates that tumor spheroids produce ECM to support metastatic processes, H. M. Micek et al., 2023, APL Bioengineering, Vol. 7(1), 016111.

https://doi.org/10.1063/5.0132254

Investigating Peptidoglycan Recycling Pathways in Tannerella forsythia with N-Acetylmuramic Acid Bioorthogonal Probes, K. A. Wodzanowski et al., 2022, ACS Infect. Dis., Vol. 8(9), p. 1831–1838.

Molecular Formula
Shelf Life

12 months unopened after receipt

Storage Conditions
Molecular Weight
Purity
Physical State

orange to light red solid

CAS Number
Excitation (max)
Emission (max)
Ɛ (max)
Solubility
Preparation/Handling

For a 10 mM solution add 126 μL to 1 mg.
For a 10 mM solution add 631 μL to 5 mg.