[woof sid="shoppingCart" autohide=0]
Tri-β-GalNAc-PEG3-Azide
Clickable Tri-GalNAc identifier for target delivery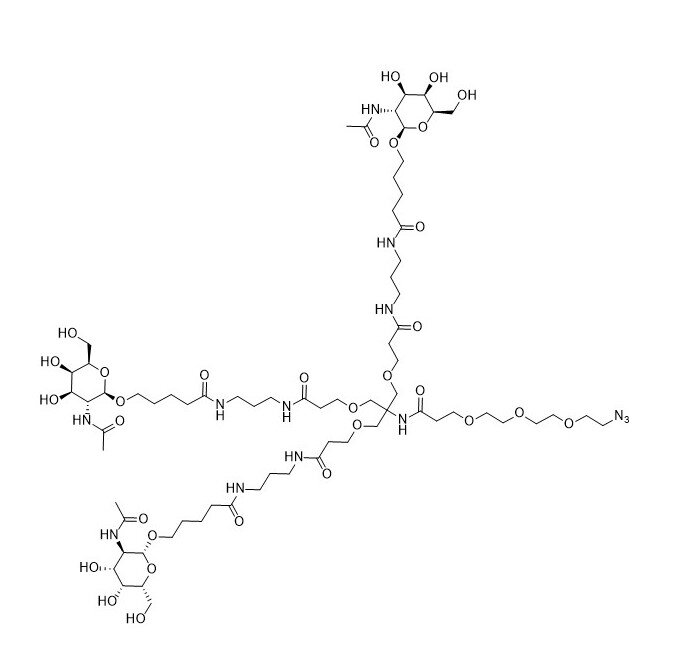 10 mg

BCFA-246-10

€ 760,00
Tri-β-GalNAc-PEG3-Azide enables the possibility to click label an Alkyne or DBCO modified target with an Tri-GalNAc moiety by copper-catalyzed Azide-Alkyne Chemistry (CuAAC). The Tri-GalNAc structure is recognized by the desialic acid glycoprotein receptor (ASGPR) and can be therefore used to target delivery of biomolecules as siRNA to liver tissue.

LITERATURE

Probing multivalent carbohydrate-protein interactions with on-chip synthesized glycopeptides using different functionalized surfaces, A. Tsouka et al., 2021, Frontiers in Chemistry, Vol. 9, 766932.

Molecular Formula
Shelf Life

12 months unopened after receipt

Storage Conditions
Molecular Weight
Purity
Physical State
CAS Number
Additional name

Tri-β-GalNAc-PEG3-N3, (β-D-GalNAc)3-PEG3-N3, (β-D-GalNAc-sp)3-NHC(O)-PEG3-N3

Solubility
Preparation/Handling

For a 10 mM solution add 304 μL to 5 mg.
For a 10 mM solution add 608 μL to 10 mg.